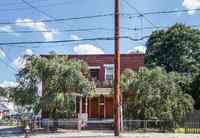 Agent Listings
The team at Elevated Boston is more than some of the best real estate agents in Boston. We are lawyers, investors, contractors, marketers, and entrepreneurs. We advise on more than real estate, tapping into our experience with leasing, property management, land development, acquisition, and other areas of real estate, providing a one-stop-shop for our Boston real estate clients.
Elevated has come to be known as Boston's best luxury brokerage, specializing in residential real estate in Boston and the surrounding area, for a reason. Begin your search to find the perfect Boston home here or contact one of our specialists and let them help guide you through the process of buying or selling your home in Boston. From knowing the latest on new construction developments in Boston to identifying the best Boston real estate for your desired lifestyle and current life stage, we can help. Learn more about our innovative Boston real estate agents below or contact the Elevated team directly.
You can also start your Boston property search by exploring featured luxury Boston buildings here or searching Boston real estate by neighborhood.